The Distribution of Digital Wealth
Recently, there have been some articles which came up with shocking headlines about the "unfair" distribution of digital currencies. Among those making the claim were the Economist and Bloomberg.
Specifically, a recent report by Bloomberg states that 2% of accounts control 95% of all Bitcoin.
These conclusions could be traced to one source - The Bitcoin rich list. But on closer inspection of the data used to make such claims, we discover that The Bitcoin rich list simply shows the holdings of Bitcoin addresses.
With that being said, the statement that 2% of addresses control 95% of the supply is true, but wildly misleading. There are 2 problems with this claim. First, not all Bitcoin addresses should be treated equal. For instance, an exchange address holding the funds from millions of users needs to be set apart from an individual's self-custody address.
Second, a Bitcoin address is not an "account". It is often the case that one user can control multiple addresses, and one address can hold the funds from multiple users. With this correction factored in, we get to a better representation of the actual distribution of BTC: 2% of BTC users hold 71.5% of the circulating supply (instead of 95%).
The adjusted calculation uses the figure of 460 million total BTC addresses with only 172 million wallets being economically relevant and only 27 of these addresses actually holding Bitcoin. On any given day, there are between 700,000 and 1,000,000 active addresses.
Bitcoin wealth distribution
Crypto analytics firm Glassnode divides network entities according to their Bitcoin holdings into the following marine species:
Shrimp: less than 1 BTC
Crab: 1 - 10 BTC
Octopus: 10 - 50 BTC
Fish: 50 - 100 BTC
Dolphin: 100 - 500 BTC
Shark: 500 - 1,000 BTC
Whale: 1,000 - 5,000 BTC
Humpback: more than 5,000 BTC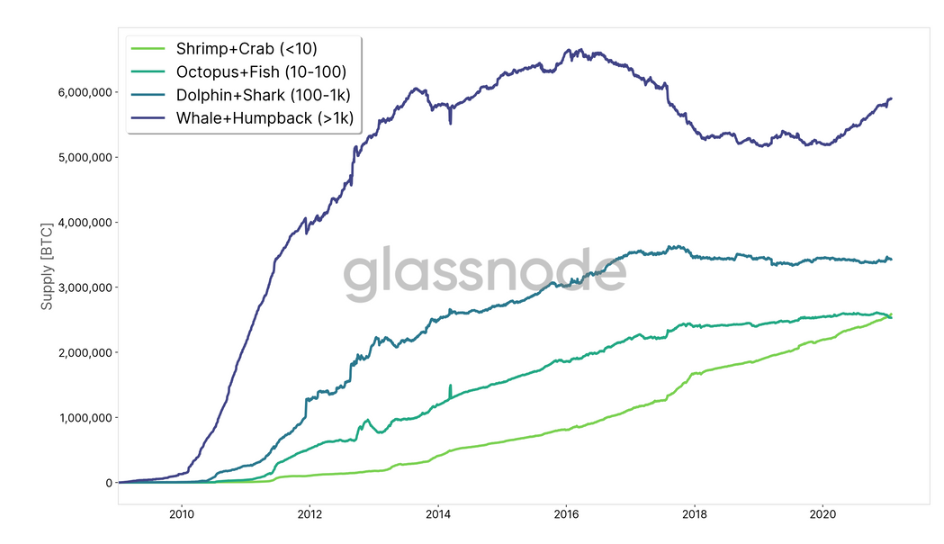 The estimated distribution of Bitcoin across network entities over time.
Source: Glassnode
On the large end of the spectrum, whales and humpbacks are the biggest non-exchange entities that together control around 31% of the Bitcoin supply. These include institutions, funds, custodians, OTC desks, and other high net worth individuals.
On the other hand, smaller entities holding up 50 BTC each (shrimp, crab, and octopus) control almost 23% of the supply. This shows that a substantial number of Bitcoins are actually in the hands of retail investors.
Who are the largest Ethereum holders?
There is yet another catchy headline that is supposed to sound shocking to the reader, possibly hinting at the uneven or unfair distribution of Ethereum's ETH wealth.
Now that we have recalibrated the distribution of Bitcoin holdings from 95% to 71%, being under the control of 2% wallets, let's explore Ethereum's holder structure a bit more.
There were 236.48 million Ethereum holders as of June 27, 2023 with the top 10 wallets holding 31.49% of the circulating supply, according to CoinCarp.
Just a year ago, this number stood at staggering 201.7 milllion, representing an 18.38% increase year-over-year. Using the same methodology as with Bitcoin above, we discover that 10 ETH wallets are equivalent to 0.000005% of all ETH wallets.
Following from that, we get the statement: 0.000005% of ETH holders controls close to 35% of ETH supply.
The biggest ETH holders are not individuals but mostly protocols, companies or purely unidentified accounts. Below is a complete list:
1- Beacon Chain Contract: approx. 18 million ETH
The Beacon Chain contract was the one employed by Ethereum during the transition from proof of work to proof of stake, which was successfully completed in the fall of 2022 with the Merge phase.
The ETH of many large exchanges, including Coinbase and Binance, was pooled to be staked to this contract, which is still being carried out. With more than 18 million ETH in the contract, it is the biggest ETH holder.
2- Binance: approx. 4.4 million ETH
It shouldn't come as a surprise that one of the largest holders of ETH is also the largest exchange in the world based on trading volume. If you sum up only three of the primary Binance Ethereum addresses, they really control more over 4 million ETH, making them the second-largest ETH holder.
3 - Wrapped ETH Contract: approx. 3.7 million ETH
WETH wrapped ETH is another popular contract. Since ETH by itself is not an ERC-20 token, using it with DeFi programs like Uniswap is challenging. The developers built a method to "wrap" ETH in an ERC-20 token, making it compatible with a wide range of apps.
4 - Kraken: approx. 1.7 million ETH
Another significant ETH holder is Kraken with more than 1.7 million. The decentralized exchange is one of the most popular exchanges in terms of trading volume.
5 - Unknown Fund: approx. 1.6 million ETH
The sole description of the fifth largest Ethereum holder is "Fund", with no more known about this fund's nature, purpose, and controller! It may as well be the largest Ethereum whale ever or just a temporary account used by an exchange.
Try to invite your friends and earn together